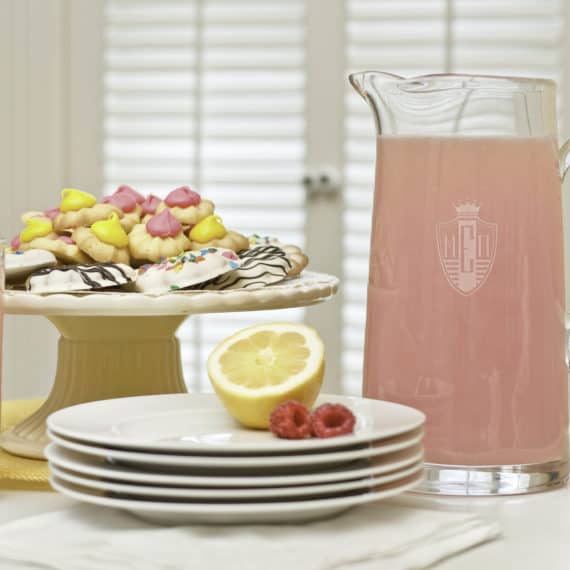 This heavy tankard is a time-tested favorite and a functional complement to a set of our beverage glasses. Hand-blown in Europe, the spout is well-designed for smooth pouring. Not dishwasher safe.
Please note that monogram styles that involve only one initial will be made using the Last Name Initial. If a monogram style shows only two initials the initials used will be the First Name Initial and the Last Name Initial.
This is a custom item that will need 10 days for production and cannot be returned.
| | |
| --- | --- |
| Font | #1 Casual, #2 Roman, #21 Chic, #22 Shield, #23 Sport, #24 Laurel, #25 Circuital, #26 Cirrus, #27 Corduroy, #28 Face Off, #3 Panel, #4 Diamond, #5 Stagger, #6 Old English, #7 Harlequin, #8 Filagree, #9 Ensignia, Style #20, Style #30 |
| First Name Initial | A, B, C, D, E, F, G, H, I, J, K, L, M, N, O, P, Q, R, S, T, U, V, W, X, Y, Z |
| Middle Name Initial | A, B, C, D, E, F, G, H, I, J, K, L, M, N, O, P, Q, R, S, T, U, V, W, X, Y, Z |
| Last Name Initial | A, B, C, D, E, F, G, H, I, J, K, L, M, N, O, P, Q, R, S, T, U, V, W, X, Y, Z |